Tento rok je pre nás v mnohom prelomový. Okrem iného sme sa prvý krát ako organizácia zúčastnili zbierky Dni nezábudiek, do ktorej sme sa v minulosti veľakrát jednotlivo zapojili ako dobrovoľníci.
Celonárodnú zbierku zvanú Dni nezábudiek organizuje Liga za duševné zdravie. Tohto roku to bolo už po 18. krát. Zbierka je teda dospelá. Už 18. rok sa počas niekoľkých dní v uliciach slovenských miest pohybuje niekoľko stoviek dobrovoľníkov s pokladničkami a kvetmi nezábudiek. Za dobrovoľný finančný príspevok tak človek dostane tento kvietok, aby nezabudol na dôležitosť duševného zdravia.
Zbierka sa do 31.12.2021 stále dá podporiť i cez prázdnu sms na číslo 833. Cena sms je 3€. Takisto je možné poslať darovaciu platbu na účet SK30 6500 0000 0000 2057 1089.
Prečo nezábudka?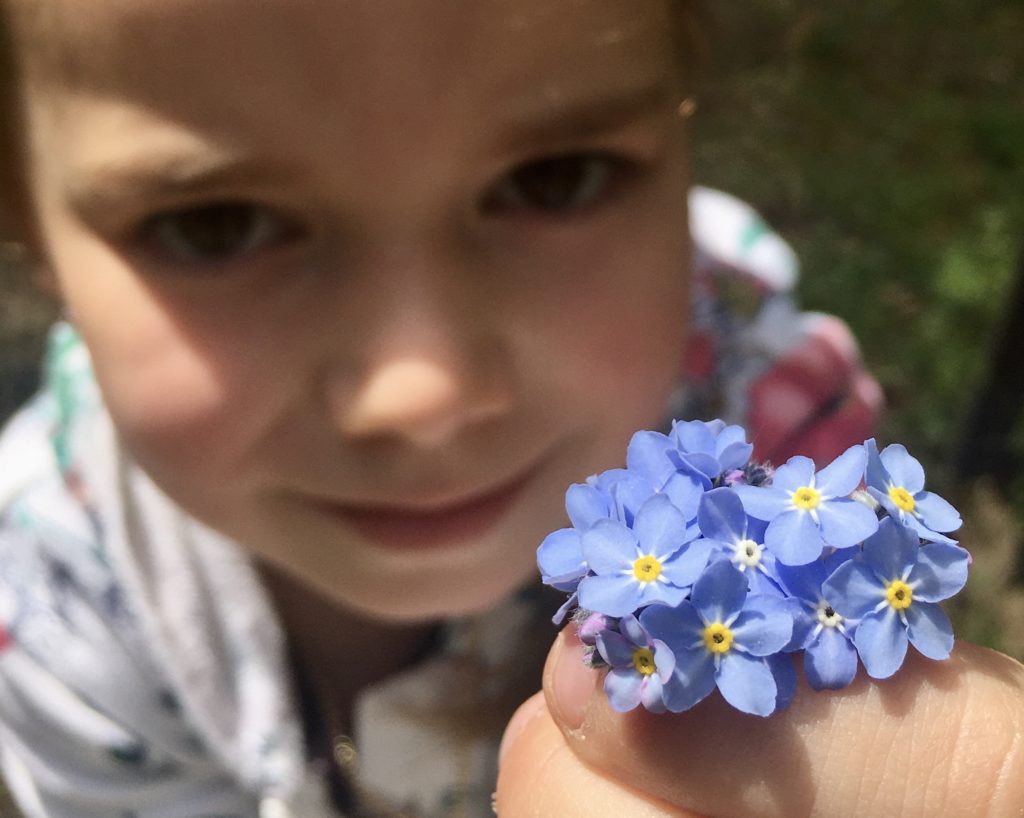 Jemné modré kvety nezábudky sú symbolom krehkosti duše. Cieľom zbierky je upozorniť na dôležitosť starostlivosti o duševné zdravie a potrebu destigmatizácie duševných porúch. Aby sme na našu dušu nezabudli.
Tohtoročná zbierka sa niesla mottom ,,Vypusťme paru." Je toho na nás veľa z každej strany a mali by sme o tom hovoriť. Naša spoločnosť je pretlakovaná a dusiť paru v sebe nemá význam. Hovorme o tom, čo nás trápi.
Zapojili sme sa i my
Na pomoc sa nám prihlásilo 17 dobrovoľníkov, ktorí aj v nečase vyrazili do ulíc a ponúkali možnosť dobrého skutku, ktorý má hlboký význam. Darcovia dostali informačný leták a malý modrý kvietok ako poďakovanie za podporu a symbol, ktorý im bude pripomínať odkaz zbierky. Bola nám aj zima, aj sme zmokli, no zvládli sme to. Mohli ste nás stretnúť nielen v uliciach Bratislavy, kde zbieralo mnoho organizácií, ktoré sa venujú službám starostlivosti o duševné zdravie, ale i v Trnave počas niekoľkých dní. Sme radi, že sme nezábudky mohli rozdať i v tomto slovenskom Ríme. Niekoľko dobrovoľníkom nám ponúklo pomoc i z iných miest, ako je Prievidza alebo dokonca Žilina, či Košice. Vzhľadom na organizáciu sa nám však nedalo byť všade. Možno nabudúce? Je to pre nás výzva.
Ďakujeme
Týmto sa chceme poďakovať všetkým ochotným dobrovoľníkom, ktorí venovali svoj čas zbierke, namiesto toho, aby odpočívali po prednáškach, písali seminárky, či trávili čas s priateľmi. Veľmi si vážime Vašu pomoc a ochotu.
Takisto ďakujeme všetkým darcom, ktorý prispeli do pokladničky. Možno ste išli na kávu, na prechádzku, či z práce unavení domov, zastavili ste sa a darovali kúsok svojho na dobrú vec. Vážime si to a vaše dary zúročíme do kvalitnejšej pomoci pre ľudí so skúsenosťou s duševným ochorením.
Z finančných darov, ktoré sme spolu s dobrovoľníkmi vyzbierali, šla časť na podporu krízovej linky Nezábudka a časť na podporu nášho Nájdi sa.
Vyzbierané peniaze investujeme do vzdelávania, aby sme mohli ponúknuť čo najodbornejšiu pomoc. Veríme metodike CARe – svetovo uznávanému rehabilitačnému prístupu. Uvedomujeme si, že jedinou cestou ako tento model priniesť na Slovensko, je naše vzdelávanie a spolupráca s organizáciami, ktoré s ňou majú dlhodobé skúsenosti. Preto využijeme vyzbierané peniaze na získanie vedomostí a vyhľadáme priestor pre inšpiráciu od skúsených odborníkov. Cieľom OZ Nájdi sa je však aj zapojenie ľudí so skúsenosťou s duševným ochorením do našich programov. Preto vyhľadáme aj kurzy pre "peerov" (odborný pracovník s vlastnou skúsenosťou s duševnou poruchou). Práve peer pracovníci sú na Slovensku neznámou, v zahraničí však dôležitou súčasťou sociálnych služieb a mnohých programov duševného zdravia. Veríme dôležitosti prístupu zameraného na zotavenie a budeme pomocou nich pomáhať každému, kto to potrebuje.